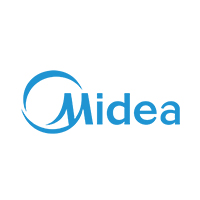 Midea Home Appliances brand offers one of the world's most comprehensive product ranges in the home appliance industry, specializing in air-treatment (commercial and residential air conditioning solutions), refrigeration, laundry, large kitchen and cooking appliances, small kitchen appliances, water appliances, floor care and lighting.
Midea is one of over 10 brands within the home appliance business of Midea Group – a leading global high-technology company ranked 288 at 2021's Global Fortune 500. Midea Group's business goes beyond home appliances and comprises business pillars like HVAC, robotics and automation, smart home and IoT, as well as smart logistics and components. 150,000
Midea believes in providing surprisingly-friendly solutions by adopting a consumer-centric and problem-solving approach. Going above and beyond for the future, constantly exploring and inventing to meet the ever-changing demand of our consumers.
Midea's globally 34 production centers and over 150,000 employees in more than 200 countries and regions generated an annual revenue of more than USD 41.4 billion in 2020. Midea's 28 worldwide innovation centers and the strong commitment to R&D have resulted in more than 62,000 authorized patents to-date.
Midea in Nepal – Hardwarepasal
If you are in search of Midea Home Appliances, then hardwarepasal is the right platform for you to shop. Select the best Appliances of your choice from Brand Midea and order it online. For more details and description visit our website.
Midea: Buy Midea Product online | Hardwarepasal
Midea Home Appliances are available at hardwarepasal.com ranging from, Midea Fan Heater, Midea Induction Cooktop, Midea Electric Heater, Midea Air Purification, Midea Heat Pump, Midea Electric Kettle and Midea Oil Filled Radiator. Hardwarepasal is an online store in Nepal which deals with hardware items. You can select the best option of your choice and order it online from our website www.hardwarepasal.com.
Shop Midea Home Accessories online in Nepal
Get amazing deals and discounts in Midea Product online. Shop at hardwarepasal for amazing offers. Order your favorite Home Appliances online and get it delivered. We have quality service with cash on delivery facility for our inside valley customers.